Yoga
The word "Yoga" came from the Sanskrit word "you" which means "to unite or integrate." Yoga then is about the union of a person's unity of breath and soul. When a person is doing yoga, the ultimate goal is to reach a unity for the physical, mental and emotional levels within.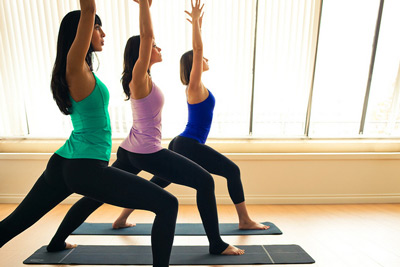 Hatha yoga:

Is a system of yoga introduced by Yogi Swatmarama, a yogic sage in the 15th century in India. The word "hatha" comes from the Sanskrit terms "ha" meaning "sun" and "tha" meaning "moon". Thus, Hatha Yoga is known as the branch of Yoga that unites pairs of opposites in the system, referring to the positive (sun) and negative (moon). It is the most commonly practiced form of yoga now.

Ashtanga:

It means "eight limbed yoga" due to the belief that a complete purification process is composed of 8 spiritual ways.

Baharta Yoga:

Works on the proper alignment of the body. Through getting to the deeper layers of the muscles and not only the surface, the maximum benefit is achieved for the body and the real balanced alignment can take place only in that case according to the founder of Baharta. The founder, Van Leeuwen, developed special handstand benches to develop a quicker access to the deeper muscles and with the help of the bench the body can reach a steady and relaxed position without strain.

Sivananda Yoga:

After teachings of Swami Sivananda, is a non-proprietary form of hatha yoga Unlike Ashtanga Vinyasa yoga's more athletic program involving

Bandhas

, Sivananda training revolves around frequent relaxation, and emphasizes full, yogic breathing.